I am maybe a little more than obsessed with the Pioneer Woman. All of her recipes are GOLD! Never have I ever made one thing from her blog and been disappointed. My first cheesecake attempt was at Thanksgiving with one her recipes, that can be found here. My second attempt was this past week for one of my teammates birthday's. And I used the following recipe...
I feel like I've always heard that baking a cheesecake is quite an undertaking, but to be honest this was actually pretty simple! Because we are living in Germany currently the hardest task is always finding all the correct ingredients at the store.
FOR THE CRUST:
2 cups Gingersnap Crumbs
6 Tablespoons Unsalted Butter, melted
2 Tablespoons Sugar
1 pinch Fine Sea Salt
FOR THE FILLING:
24 ounces, weight Cream Cheese, At Room Temperature
1-1/4 cup Sugar
1/4 teaspoon Fine Sea Salt
4 Eggs At Room Temperature
2 teaspoons Fresh Lemon Juice
2 teaspoons Vanilla Extract
12 ounces, fluid Greek Yogurt (2%% Or Full Fat), At Room Temperature
FOR THE TOPPING:
3/4 cups Whipped Cream
2 Tablespoons Sugar
2 teaspoons Vanilla
Start off with your crust, because it has to go into the fridge for 30 minutes before baking. My mom brought me these ginger snaps on her visit, so I needed to use them up. The ones from Trader Joe's are delicious and fresh, but for me I am not a huge fan of alot of ginger so they were a little strong for me. Normal ginger snaps usually have alot more sugar and not as "spicy". So it's really personal preference.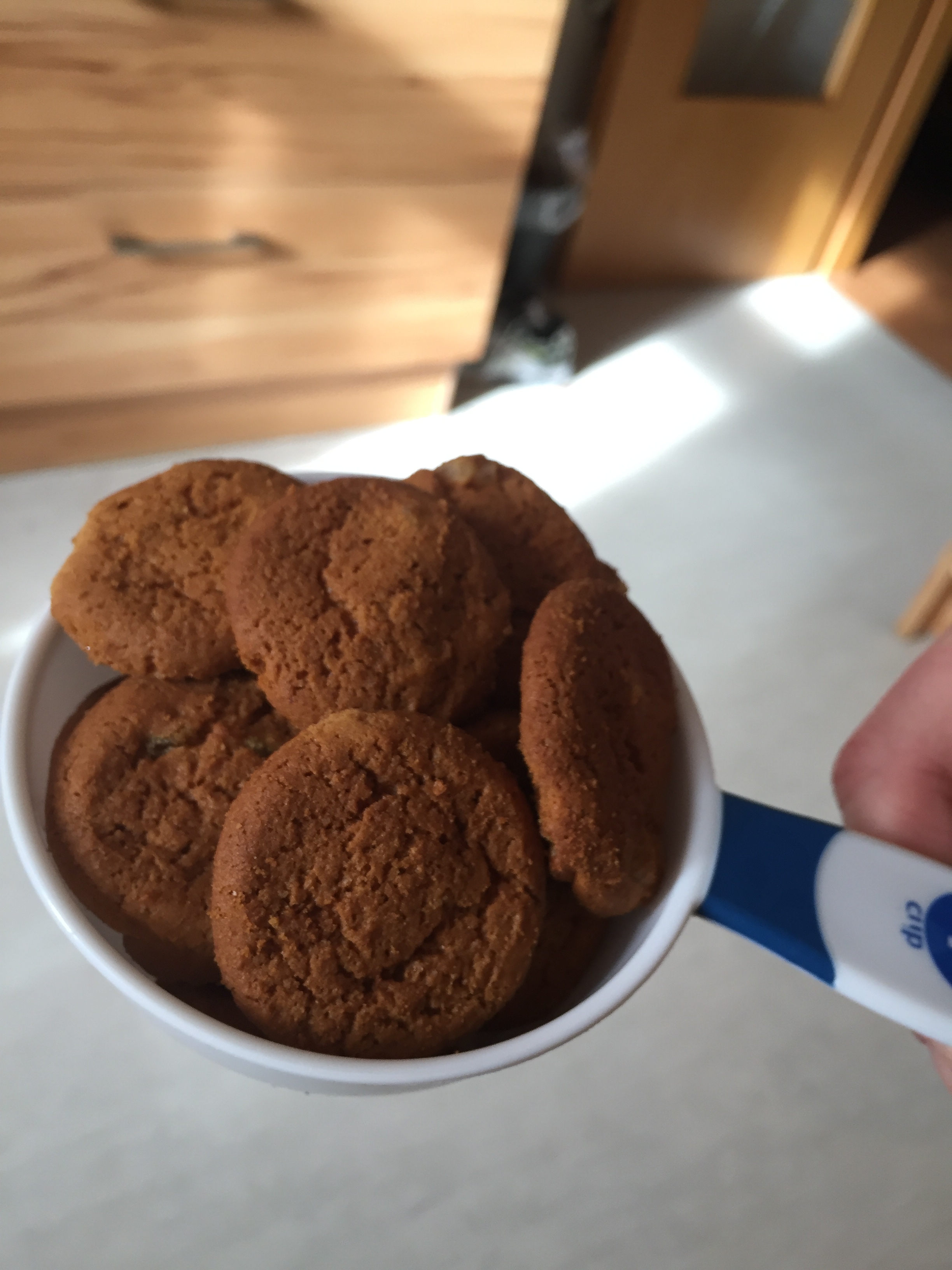 Take 2 Cups of Gingersnaps. The more cookies you use the higher your crust will run up the side of the pan. So if you want only crust on the bottom then use less cookies. I ended up using the whole box so almost 4 cups of cookies; my crust was halfway up the sides. Add in 6 Tablespoons of melted butter, 2 Tablespoons of Sugar and a pinch of salt. Turn on your food processor until all cookies are smashed up (5-7 seconds). If you don't have a food processor or just want to take out some anger put all these ingredients into a plastic ziploc bag and smash away with your fist or rolling pin. Dump the crust into your springform pan and press down to get it nice and compact with your fingers. Put into the fridge for 30 minutes.
Next put 24 Ounces of Cream Cheese into a bowl and blend until smooth. Add in 1-1/4 Cups of Sugar and 1/4 Teaspoon of Salt. Blend again until everything is combined.
The eggs need to be blending in one at a time. So after adding one to the mixture blend it and then add another and blend it, and so on...
After the 4 Eggs have been mixed in. Add in 2 Tablespoons each of Lemon Juice and Vanilla extract and 12 Ounces of Greek Yogurt. Again blend until all combined. Now you have your cheesecake filling! Super easy right?!
Pour filling into the crust and drool....
Unfortunately Cheesecake takes FOREVER to bake. Bake it for 55-70 minutes. Here's my trick: Set a timer for 20 minutes 3 times. After each 20 minutes check your cheesecake and make sure all looks well. After 60 minutes the cake should be just a little jiggly in the middle. If it isn't, bake for 10 more minutes OR until the cake has only a little jiggle. I usually just poke the pan and look for ripples in the filling. No ripples=done baking! Turn the oven OFF and then let it sit in the oven for an hour. Again...torturous.
The reason for leaving it in the oven with it off is to help the cooling process. If you take it out and leave it at room temperature it will crack and all sorts of terrible things .